The history of earrings goes back more than 7,000 years, and begins in Asia and Egypt, where they were reserved for the upper classes. This history was nevertheless marked by many changes, according to  the mores and the evolution of cultures around the world. Let's discover here the history of 4 styles of iconic earrings.
STUD EARRINGS
Stud earrings are the ultimate minimalistic and  sophisticated piece of ear jewelry. They come in multiple shapes and colors to suit everyone.
An ear stud is composed of a straight stem adorned with a stone, bead or pattern in the same metal as the stem. Commonly, when talking about a stud, we implicitly suggest a slightly smaller earring.
Typical of the nineteenth century's fashion, the "sleeper" earring is defined by its hanging system. Indeed, they are attached by a hook that is slipped from the back of the earlobe and fastened in the front. Usually adorned with pearls or precious stones, they combine the simplicity  of an ear chip with the glamour of a pair of dangling loops.
The origin of the jewel is that sleepers were worn at night to prevent the piercing holes from closing. By extension, they became earrings favored to be worn both day and night, hence their name. Today "dormeuses" or "sleeper earrings" are worn daily and make an apt choice for children as they are less likely to get lost.
Taking their roots in Africa beyond 2500 BC, Creoles earrings are a jewel whose various variations will suit all styles. Characterized by their circular shape, most often simple but sometimes decorated with stones or charms, they come in all sizes. From the thickest to the thinnest, from the smallest  "huggie"  to the widest "knocker", everyone will be able to find the ones that suit them.
The Creoles are so named because they were the only jewel that  the slaves of Africa were allowed to keep upon their arrival in the plantations, between the fifteenth and nineteenth centuries in the West Indies. At the end of slavery, they remained a symbol of identity, notably adopted by black American singers of the 70s.  Find out more about this in this article entirely dedicated to Creoles.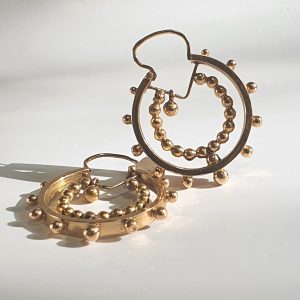 Characterized by their opulent style adorned with charms and tassels, Savoyard or Tarentaise earrings have a timeless and universal style.
Despite their roots in Savoyard craftsmanship since the nineteenth century, Savoyard earrings have traveled well since. The story goes that gypsy women fell in love with these earrings during a trip through the region, to the point of adopting them immediately. Today, despite their Savoyard origins, their style evokes the opulence of the bohemian, oriental, or even Indian style, making them resolutely universal and timeless.